CLEVER AND SO EASY TO USE

Secure your baby in the carrier BEFORE wearing
Watch the Cococho baby carrier in action
The Cococho Baby Carrier Benefits
Cococho created the only soft structured baby carrier that
secures and supports the baby BEFORE loading onto the parent's front or back.
The Cococho Baby Carrier has been developed to improve the babywearing experience and stems from an ergonomic holistic approach for both the baby and the parent.

Some of Cococho's benefits include:

• Easy transfers between wearers and with sleeping babies

• The easiest and safest way to back load unassistedly

• Super comfortable for both baby and parent
READ MORE ABOUT Cococho's BENEFITS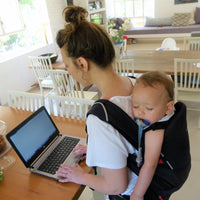 The carrier's structure
1. Cococho's back panel includes a built-in, passive head and neck support works while baby is both awake and asleep and enables curious babies to look around comfortably.

2. Includes a separated adjustment system for the baby's space inside the carrier which provides room for baby's upper back, without slumping and allows curious babies to look around and explore their suroundings while facing their parents.
3. Cococho's dynamic waist belt provides ideal weight distribution between the adult's shoulder and hips. Adapts to the baby's development from infant to toddler. Acknowledged by the International Hip Dysplasia Institute.
4. Includes pockets for small belongings and a mirror to monitor the baby while being carried on the back.
5. Special layering allows all weather comfort, breathabilty and contact with a cotton 3D mesh layer.
LEARN MORE
How They Wear It: Meet Our Customers
Follow our tribe to get inspired, and share your own special moments with us!
Tag @cocochobaby #cocochobaby for a chance to get featured.
WHAT OUR CUSTOMERS SAY
This baby carrier has features that we didn't know our original baby carrier was missing until we put our little boy in this one. 
It secures our baby in really well and he is so comfy in it!
Sleek, comfortable, and insanely innovative, this carrier has it all!
 The Cococho is amazing!
It is so well designed and has all the features you could possibly want plus more!
I found this carrier such a joy to use.
I felt as though baby was both supported and comfy at the same time. I also loved the design I thought it was super stylish.
The unique way of loading makes this the easiest carrier to get a baby on your back.